Clara Claus (Snowflake Triplet #1)
(4.00 from 4 reviews)
A bestseller! Jack Frost has been trying to destroy Christmas for years, and in order to save his job must complete a task he deems impossible -- until he meets Santa's granddaughter Clara, who begins to change his view of what Christmas is all about. Book 1 in the Snowflake Triplet.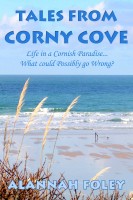 Tales from Corny Cove
TALES FROM CORNY COVE (Life in a Cornish Paradise… What could Possibly go Wrong?)... When Henry & Margaret move down south to run a campsite, it turns out that 'living the dream' sometimes involves dealing with a few nightmares too! "Tales full of twists, turns, and tickles", with the bespectacled Henry having a hard time from the obnoxious farmer next door as well as brutish & unruly campers.