A TV's Dream
by

Patricia Allen
Larry is a young in the closet cross-dresser from a broken home. The youngest of four children he's the only one available when his mother needs help in California. He plans ahead and secretly packs the panties and bra's he has purloined from the Goodwill bag. The plan is to underdress the whole summer. It was to be an interesting summer... it was more interesting than he planned.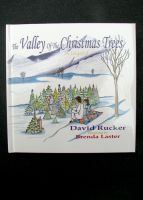 The Valley of the Christmas Trees
by

David Rucker
Price:
$1.25 USD.
Words: 5,250. Language: English. Published: March 2, 2010. Categories:
Fiction
»
Holiday
»
Family
All dressed up and no place to go? Not so fast! Christmas trees have a life too. Magic sparkle dust from the wands of Christmas eve gnomes transports them all, for one hour only, to The Valley of the Christmas Trees. Contests, present making, and the annual parade await. How do we know this to be true? Read this account of a young boy and his unusual Christmas Eve adventure. Ages 8 and up.