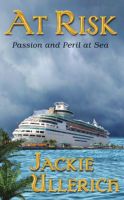 At Risk: Passion and Peril at Sea
by

Jackie Ullerich
At Risk explores the complexities of love and marriage, as well as the dark side of racism and bigotry—all aboard the luxury cruise liner, the Sea Star. A cruise along the Mexican Riviera is the setting for a disparate group of passengers who dine together nightly. In that intimacy, they reveal aspects of their lives and family backgrounds which sets in motion a terrifying series of events.
Holidays: A Nova Scotia Murder Mystery
by

Laura Stapleton
The second short story installment of the Nova Scotia Murder Mysteries prequel. Freshly divorced, Mandy Hays breaks with family tradition and books a tropical vacation for Christmas. When a handsome guy moves in the apartment across from hers, she's curious. What is her new neighbor's secret?
Related Categories