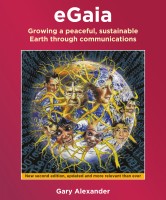 eGaia, Growing a peaceful, sustainable Earth through communications
by

Gary Alexander
Is this what you are looking for? A positive vision is emerging – a community-based, but globally linked and co-ordinated society, a global human family looking after each other and the Earth. eGaia describes the many starting points around the world, and next big steps where they join and link up. It clarifies, gives background, principles, and a light fictional picture of a sustainable world.
Can America Survive?
by

Joseph George Caldwell
This book shows that when fossil-fuel reserves deplete in a few years, Earth's total human population will drop to about 500 million people or less. The book describes a "minimal regret" population -- a long-term-sustainable, environmentally sound population consisting of a single industrialized nation of five million people and a hunter-gatherer population of five million.