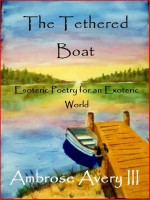 The Tethered Boat - Esoteric Poetry for an Exoteric World
by

Ambrose Avery III
The Tethered Boat-Esoteric Poetry for an Exoteric World, is a book of metaphysical poetry, written from the heart, soul and Spirit. If you are unfamiliar with the terms "esoteric", "exoteric" and/or "metaphysical" you're not alone. For the quick definitions, "esoteric means: "secret, confidential and internal", and exoteric means "general, well-known, and external." Metaphysical means "Spiritual."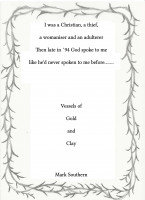 Vessels of Gold and Clay
by

Mark Southern
This is a book that faces stereotypes, relationships and reconciles polarisations of each. What began as reflections on personal experiences evolved to become more about ways society could take more interest in those that live outside their experience. Mark challenges preconceptions of 'good' and 'human', taking us to a place of intimacy with strangers, to find ourselves discovering new friends.
Related Categories