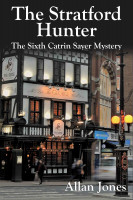 The Stratford Hunter
by

Allan Jones
A valuable painting is discovered in East London at the scene of a suspicious death of a young woman. It leads Detective Inspector Catrin Sayer to a gang leader and his accountant now held in separate prisons in Scotland. Her assignment is 'to stir them up a bit'. She does so and it has surprising consequences.
Murder and Tainted Tea
by

Janet Lane Walters
Katherine heads to Santa Fe, New Mexico along with a Maine Coon Cat kitten to spend New Year's Eve with Lars. Her guilty feelings over the organist's death have her needing an escape. When she reaches Santa Fe, she discovers Lars is missing. She seeks and finds him and steps into another mystery.
Related Categories