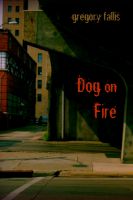 Dog on Fire
by

Gregory Fallis
Kevin Sweeney and Joop Wheeler operate a small investigative agency on the Massachusetts coast. They can't afford to be choosy about their clients; they take just about any case that comes their way. Their clients are normal people living normal lives who find themselves in situations that are anything but normal-situations that call for the help of men accustomed to serious weirdness.
The Adventures of Watts and Sherlock: The R.X. Problem
by

Katie Magnusson
After an injury leaves him with a cybernetic leg and no job, Dr. James Watts becomes roommates with a detective named Sherlock, who is trying to emulate his literary namesake, to a disturbing degree. Watts is soon whisked along on Sherlock's cases, from solving murders to exposing immoral Corporations. He may or may not be crazy, but one thing is certain; life with Sherlock will never be boring.
Related Categories