12 Quizzes on Classical Composers
by

Gail McGaffigan
The perfect Christmas gift for your music-lover!. One quiz each on the lives of Bach, Beethoven, Mozart, Liszt, Schubert, Schumann, Verdi, Wagner, Chopin, Haydn, Handel, and Grieg. May be used in conjunction with the Classically Gail free, one-year course in Music Appreciation (classicallygail.blogspot.com).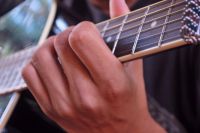 How to Live Stress Free and Musically
by

janet reyes
A short, humorous how-to guide on music and life. Music is a universal language and can ease the mind. Read about how to discover new music through emerging technology and how to keep music relevant in your daily life in order to be a happier person.