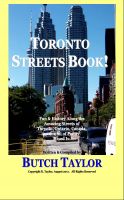 Toronto Streets Book!
by

Butch Taylor
De Grassi Street. Avenue Road. Bloor Street. Kipling Road. Brown's Line. Yonge Street: Take the "Toronto Streets Book!" on an informative, fun, and joyful romp along the roadways & byways of Toronto, North America's best-kept secret. With 2.7 million people, Toronto's the 5th largest North American city, following Mexico City, NYC, LA, & Chicago. Read. Enjoy. Have fun. Tell everyone!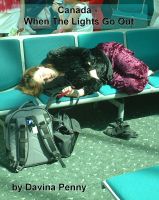 Canada - When The Lights Go Out
by

Davina Penny
(3.67 from 3 reviews)
Touring Ontario and parts of Quebec in Canada provide a life experience that is not easily forgotten - particularly when you are caught up in a blackout the likes of which North America hasn't seen before. This is a light hearted diary style entry of the daily events as they occurred. Think of Bill Bryson and his quirky take, but mix in with that, a healthy dose of female ditziness.