Coffee Break Anyone?
by

Louise Narvick
Have you ever wondered what the difference is between various coffee drinks at a coffee bar wuth all of those special names? What about all those coffees on the grocery shelves? What is the difference between the European blends, American Blends, Espresso and Kona Coffees? Have they only been given special names or are they different in flavors and tastes. You can find a brief discription here.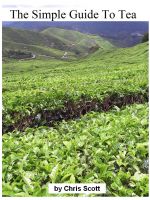 The Simple Guide To Tea
by

Chris Scott
(5.00 from 2 reviews)
A simple introduction to the world of tea. We start with a look into the history of tea and the different types of tea. White, Black, Green, Oolong and Tisanes. Tea is a wonderful beverage, learn how to make the most of your tea experience.