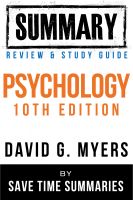 Psychology Textbook 10th Edition: By David G. Myers -- Summary, Review & Study Guide
Trying to dominate the material before class? Or just cramming for a mid-term? Either way, here's your unofficial companion to David G. Myers' textbook Psychology, 10th Edition. Each chapter-by-chapter summary contains a Chapter Overview, Section-by-Section summary paragraphs, Terms & Definitions, Key Take-Aways, and Review Questions & Answers. Download it and start studying right now!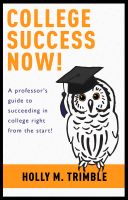 College Success Now!
This book was written to quickly help college students acquire the information they need to succeed in college. Holly Trimble wrote this book from the perspective of a college professor, a parent of college students, and a lifelong learner herself. She gives clear instructions for many aspects of college life, and she includes a number of links to websites to further assist the college student.