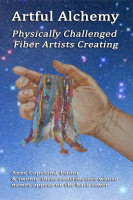 Artful Alchemy: Physically Challenged Fiber Artists Creating
by

Anne Copeland
This book is a collection of beautiful art photos, along with the personal stories of the 23 talented contributors. No strangers to the Internet, teaching, public speaking, writing, selling art, and winning major awards for their fiber arts in major exhibits, these women proactively articulate their beliefs related to their physical challenges, demonstrating the need to view them in a new light.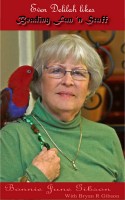 Beading Fun 'n Stuff
by

Bryan Gibson
Even Delilah likes Beading Fun n' Stuff is a tongue-in-cheek treatise on adventures of a home beading jewelry business. This fun to read set of critical insider skills are provided for the use of tools, gems, metals, torched glass, photo/camera secrets and home studio basics from a perspective that only a candid and fun loving senior can provide. All this and a parrot to boot.
Related Categories