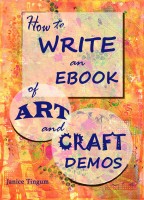 How to Write an Ebook of Art and Craft Demos
by

Janice Tingum
How to Write an Ebook of Art and Craft Demos shows readers an effective way to share their creative ideas and methods with others. Readers will learn how to select a topic and write a well-organized ebook of demonstrations that can be marketed online. This ebook includes instructions for preparing and using images to illustrate demos and tips for creating a cover image and title.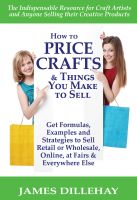 How to Price Crafts and Things You Make to Sell
by

James Dillehay
Learn how to price crafts and things you make to sell with this easy-to-follow manual. Discover formulas and strategies to make your craft prices more profitable, when selling retail or wholesale, online or to stores and at craft shows. If you have considered starting a home business with things to make to sell or you are already selling crafts but fear you are losing money, you need this book.