The Misborn IV: Maud
by

L. V. MacLean
Tradition says that Maud's ancestors came from another dimension, and found ways to survive here. This makes her, she feels, particularly qualified to deal with this new wave of extra-dimensional invaders, who are not so well-intentioned as her people. It's time for Maud, with a collection of unexpected helpers, to take a hand in the fight to save the universe from the gatecrashers.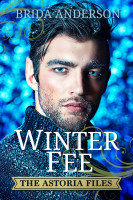 Winterfee. Ein Roman aus der Welt der Astoria Files
by

Brida Anderson
Astrid Persson ist PR-Expertin bei einer übernatürlichen IT-Firma und an Seltsames gewöhnt. Daher erscheint es ihr auch nicht weiter eigenartig, dass Paci, ein Journalist, sie bei einer Firmenführung im wahrsten Sinne des Wortes verzaubert. Aber als die Sicherheitsabteilung Paci einsperrt und grausame Experimente an ihm praktiziert, muss Astrid alles in Frage stellen, das sie bisher geglaubt hat.