Sub-categories:
General | Adventure | Short stories | Space opera | Apocalyptic | Utopias & dystopias | Military | High tech | Hard sci-fi | Steampunk & retropunk | Cyberpunk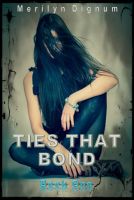 Ties That Bond
(5.00 from 3 reviews)
Mia doesn't know why she's different but it has saved her life more than once and finally helped her find a safe place where who she is is accepted without fear or threat. When she is targeted because of who she is she may lose everything – her safe haven and her friends. Will she stand against those that are after her or will she be forced to join them?