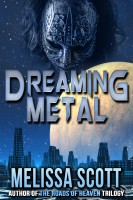 Dreaming Metal
by

Melissa Scott
Five years after the Manfred riots, the question of machine intelligence is still a dangerous one on Persephone, and the coolie rights organization Realpeace is not prepared to let it go. For conjurer Celinde Fortune and her musician cousin Fanning Jones, the conflict is a distant one — until the murder of a popular musician raises the stakes even for the most determinedly uninvolved.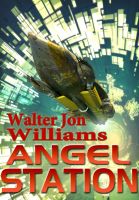 Angel Station
by

Walter Jon Williams
(5.00 from 1 review)
They're outlaws now. Created to serve a function now obsolete, Ubu and Maria have lived their entire lives skating along the edge of extinction. Now they and their ship Runaway are in flight from the law. What they find in the depths of space is a secret so startling that Ubu and Maria will need every last reserve of guile, cunning, and intelligence just to survive . . .
Related Categories