Sub-categories:
Romance | Contemporary | Short stories | Fantasy | General | Historical | Suspense | Futuristic | Western | Mystery & detective | Classical & allegory | Amish & Mennonite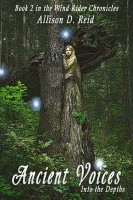 Ancient Voices: Into the Depths
by

Allison D. Reid
(5.00 from 1 review)
The Kinship rides victorious into Minhaven, bringing both hope and distressing news. Though its greatest threat has been defeated, a new one is emerging—an enemy not seen for hundreds of years. Has Braeden's cruel reach followed Elowyn into this remote wilderness? If so, there is no place left to run, and the Kinship is facing an enemy more sinister and powerful than they can possibly imagine.