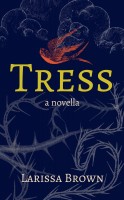 Tress
by

Larissa Brown
Ever since little Tess cut off her doll's hands and painted them blood red, she's longed to live in a gruesome fairy tale. But when grown-up Tess can hardly tend her own wounds, how can she free a golden-haired woodsman from his curse? Larissa Brown, author of the Viking love story Beautiful Wreck, crosses genres with a novella that's part fairy tale, part gothic horror, with a dash of fated love.
Guardian of the Grimoire
by

Karen McCullough
Magic, mystery and romance combine in a gothic story that sees a peaceful, small-town library turned into a supernatural battleground. In the library's basement a dangerous book lies hidden somewhere in stacks of old crates, and librarian Jess O'Rourke is caught in the middle of a battle between a demon and the book's mysterious guardian for possession of it.