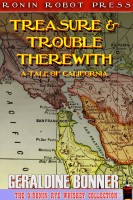 Treasure and Trouble Therewith
by

Geraldine Bonner
O'Ronin Rye always brings you the very latest in yesterday's Westerns. San Francisco 1900s, richly described, pulsating with color. Change is coming. Triggering a cataclysmic chain of events, masked bandits rob the Wells Fargo stage and hide the gold. An unlikely trio bands together to protect two wealthy young women: an aged Chinese servant, an intrepid young newsman, and a young lawyer.
Passage (Soul of the Witch: Book 1)
by

C. Marie Bowen
After a car accident, Courtney Veau has a "near death" experience, and returns to her past-life in the post-Civil War west. When she wakes in a present-day hospital, Courtney realizes she's returned to her own hollow existence. Heartbroken, she knows she left behind not only a family she loves, but life with the man who shares her soul, a man she'll love forever, Merril Shilo.
Related Categories