Sub-categories:
Romance | Urban life | Erotica | General | Contemporary woman | Christian | Mystery & detective | Historical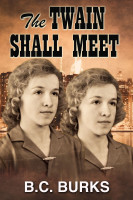 The Twain Shall Meet
by

B.C. Burks
In 1913, during a time of segregation and dissension, identical twins Anne and Arlene Arbor are living separate lives. When they unexpectedly run into each other at an important event in Washington, D.C., Arlene who is an advocate for the rights of black women, is blindsided by Anne who reveals that she is passing for white.