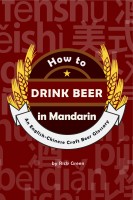 How to Drink Beer in Mandarin: An English-Chinese Craft Beer Glossary
by

Rick Green
Western craft beer drinkers and brewers are captivated by China's emerging craft beer revolution. For the first time, "How to Drink Beer in Mandarin" offers industry players and travelers an essential tool to communicate about beer in Mandarin. Not just a glossary, additional resources cover language learning, travel information, drinking etiquette, a list of all China's craft breweries, and more!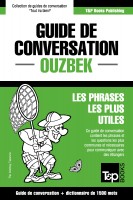 Guide de conversation Français-Ouzbek et dictionnaire concis de 1500 mots
by

Andrey Taranov
La collection de guides de conversation "Tout ira bien!", publiée par T&P Books, est conçue pour les gens qui voyagent par affaire ou par plaisir. Les guides contiennent l'essentiel pour la communication de base. Il s'agit d'une série indispensable de phrases pour "survivre" à l'étranger. Une autre section du livre contient un petit dictionnaire de plus de 1500 mots les plus utilisés.
Related Categories