The Cabal of Thotash
by

J. Zachary Pike
The Cabal of Thotash is a wickedly funny novelette that peers beneath the hood of an evil cult and finds the inevitable collisions between orthodoxy and modern culture.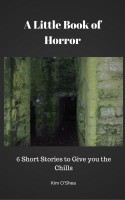 A Little Book of Horror
by

Kim O'Shea
These spine tingling tales of horror will have you glancing over your shoulder! Watch out! You never know what's lurking in dark corners ... or purple wardrobes ...
Related Categories