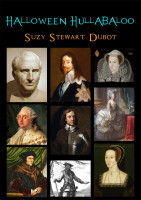 Halloween Hullabaloo
by

Suzy Stewart Dubot
When nine historical characters come together on the 31st of October, it's with the view to having some fun with the living. Wreaking havoc in the Rosebery Community Centre promises to be entertaining! This short story involves real people in British, French and Italian history who have been dead for centuries. Time to enjoy themselves in the Halloween Hullabaloo.
The Cabal of Thotash
by

J. Zachary Pike
The Cabal of Thotash is a wickedly funny novelette that peers beneath the hood of an evil cult and finds the inevitable collisions between orthodoxy and modern culture.
Related Categories