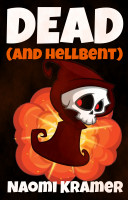 DEAD (and hellbent)
by

Naomi Kramer
Mike is days away from getting out of jail. But he has a big problem - he's convinced that Linda is back to make his life hell. Linda is convinced that she's not tormenting Mike - she just wants him to go the hell away. Trent, as usual, is given the job of working out what the hell is going on. Warning: Contains violence, rude words, and Aussie spelling and slang. Not suitable for children.
The Cabal of Thotash
by

J. Zachary Pike
The Cabal of Thotash is a wickedly funny novelette that peers beneath the hood of an evil cult and finds the inevitable collisions between orthodoxy and modern culture.
Related Categories