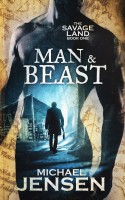 Man & Beast
by

Michael Jensen
It's 1797 on the American frontier, and 21-year-old John Chapman is lost and alone with winter setting in fast. Stumbling upon a blockhouse in the wilderness, John manages to talk Daniel, the brutish but sexy proprietor, to allow him to stay the winter.
El pirata enmascarado. Guayaquil 1687
by

Juan Carlos Riofrío Martínez-Villalba
El libro recoge la peor invasión pirata que la ciudad de Guayaquil padeció en su historia. En 1687 una coalición de piratas ingleses, franceses y holandeses entraron a Guayaquil guiados por un pirata enmascarado que no dio a conocer su identidad. Ambientada en el lugar, con giros de época, se mezcla la acción y el romance, la historia y la novela, en una de las mejores historias de piratas.
Related Categories