To Crown a Caesar (The Praetorian Series - Book II)
by

Edward Crichton
(5.00 from 5 reviews)
Five years have passed since former Navy SEAL Jacob Hunter first brought his team of Special Forces operators back in time to the days of Ancient Rome. On the run ever since, as both hunters and prey, their lives are spent in constant pursuit by agents of the Empress Agrippina. But History is finally on their side as they concoct a risky plan to repair the timeline and find their way home.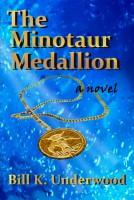 The Minotaur Medallion
by

Bill K. Underwood
(4.60 from 5 reviews)
30 years after Jesus' death, the apostle Paul was taken in chains aboard a ship bound for Rome. It never arrived. 2000 years later, amateur archaeologist David Connor is on Malta looking for evidence of the lost ship, with the help of smart - and lovely - professor of ancient history, Caroline. But as the artifacts become more intriguing, so does the evidence that someone is trying to kill him.
Related Categories