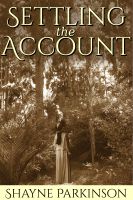 Settling the Account (Promises to Keep: Book 3)
by

Shayne Parkinson
(4.90 from 70 reviews)
Amy watches in growing fear the worsening confrontation between her husband and her son, until she realises that only one of them can survive it. How long can she keep them apart? The final volume in "Promises to Keep". It follows directly on from Book Two, "Mud and Gold".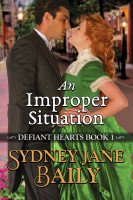 An Improper Situation (Defiant Hearts Book 1)
by

Sydney Jane Baily
Boston lawyer Reed Malloy has a mission: deliver two orphaned children to their cousin. He's not prepared for Charlotte's irresistibility or flat-out refusal to raise her kin. When she forsakes all that's familiar and enters Reed's world of Boston high society, concealed malice abounds. Passions ablaze, facing sinister forces and scorned women, can Reed and Charlotte escape an Improper Situation?
Related Categories