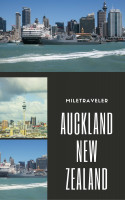 MT Guide: Auckland
by

Mile Traveler
Surrounded by water and acres of unspoiled beauty and nature, Auckland is a destination that is perfect for a summer retreat or even if you are bound for discovering the city and its fine museums, cuisine, and sights that you just can't miss.
Mike's Japan (2016 Edition)
by

Mike Dixon
Mike has lots of Japanese friends and he often visits them in Japan. He has noticed that when the sake (booze) flows freely he gets to learn things he might not otherwise know. This book was written to entertain and provide travel advice. Over fifty photographs.
31 Days in a Campervan
by

Pete Buckley
The story of a journey around New Zealand made in the southern winter of 2005. Traveling by camper van is one of the best ways to see this fascinating country and the route itself is perhaps one of the finest journeys in the world. If your love is for nature, the outdoors and the freedom of the open spaces, then this is for you.
Related Categories