Hand Me Downs
Three short stories make up "Hand Me Downs". #1- Traveling from North Dakota to Montana, Tamara and Manly come face to face with the massive winter storms of 2011. #2- "Hobart", April and Bert fly south to Hobart, Tasmania in Australia after a hard day's night. #3- "Tracks Less Traveled", Nueva and Chris hike the wilderness of Cradle Mountain in the wilderness of westernTasmania.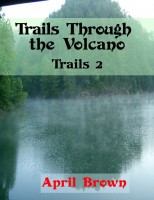 Trails 2: Trails Through the Volcano
A series of devastating earthquakes and volcanic eruptions rift New Mexico, the North American Continent, and the families of Amber and Alex. They draw closer together while surveying the damage, and trying to protect the citizens. They grapple with losing best friends and family, as their world tumbles faster than the Rio Grande swirls at their feet.