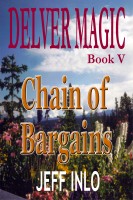 Delver Magic Book V: Chain of Bargains
by

Jeff Inlo
(4.50 from 2 reviews)
The western cites of Uton are overwhelmed by a massive exodus from the Great Valleys. Ryson Acumen and Holli Brances investigate the strange occurrences and find dark creatures inundating the eastern lands. A twisted plan of deceit gradually takes shape as Ryson and Holli follow a chain of bargains meant not only to remove all the people from the valleys, but to destroy the entire human race.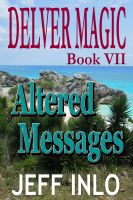 Delver Magic Book VII: Altered Messages
by

Jeff Inlo
(5.00 from 1 review)
Utilizing magic to overcome their treacherous nature, six serps form a council bent on obliterating order. Great magical spells and horrific monsters crash down upon the land in waves. The guardians of Uton hope to end the crisis without directly confronting the serps, but it is Ryson Acumen who realizes that the only way to match the serps' influence is to move faster than they can scheme.
Related Categories