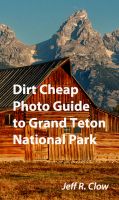 Dirt Cheap Photo Guide to Grand Teton National Park
by

Jeff Clow
(5.00 from 15 reviews)
The Dirt Cheap Photo Guide to Grand Teton National Park is written for three distinct travelers; the photo enthusiast, the family photographer and the travel fan. In twelve chapters, pro photographer Jeff Clow takes the readers on a guided tour of the park with instructions as to where to find the best photo spots at the best times. Both famous and lesser known landscape locations are highlighted.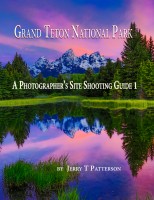 Grand Teton National Park - A Photographer's Site Shooting Guide 1
by

Jerry Patterson
(5.00 from 2 reviews)
This is a photographer's shooting guide for Jackson Hole, WY complete with photos of all locations and links to Google map pointers to pinpoint each exact shooting location. This replaces "Jackson Hole, WY - A Photographer's Shooting Guide" with updated information and an additional 30 sites for a total of 115 great sites to photograph the Teton Mountains.
Related Categories