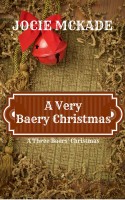 A Very Baery Christmas
by

Jocie McKade
It's almost Christmas and Abby Baer is determined to spend it with her new husband, when she is called by a friend to lend a hand in his escape from a retirement home. On what could be the most memorable road trip ever, she picks up a unique passenger, is tailed by the cops, is hunted by the deranged daughter of a Shoshone sage, befriends a skunk, and is thwarted by a raging blizzard.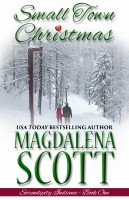 Small Town Christmas
by

Magdalena Scott
Melissa is back in town, to raise her young son and make a name for herself. Her real estate business is off to a fast start, but at what cost? Jim is trying to keep the family Christmas tree farm going after his dad's death. But now Melissa's back in Serendipity, it's nearly impossible to hold everything together--his past with her is pulling him apart. But Serendipity is full of surprises...