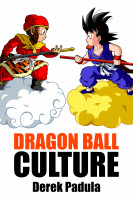 Dragon Ball Culture Volume 1: Origin
by

Derek Padula
See Dragon Ball with new eyes. This book is your cultural tour guide of Dragon Ball, the world's most recognized anime and manga series. Over 11 years in development, at over 2,000 pages, and featuring over 1,800 unique terms, Dragon Ball Culture is a 7 Volume analysis of your favorite series. You'll go on an adventure with Son Goku, and along the way you'll be informed, entertained, and inspired.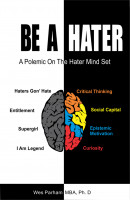 Be A Hater: A Polemic on the Hater Mindset
by

Wes Parham MBA Ph.D.
What do Taylor Swift, Cognitive Psychology, Gucci Mane, Dissent, and The Most Dangerous Person Alive have in common? The answer is the "Hater Mindset". In "Be A Hater" Dr. Parham uses a pop culture approach to examine a subtle and subconscious cultural shift in the concept of a "hater". A shift with implications for critical thinking, relationships, individual happiness, and more.