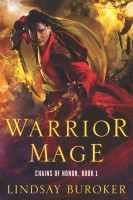 Warrior Mage (Chains of Honor, Book 1)
by

Lindsay Buroker
(5.00 from 1 review)
His mother was one of the most powerful wizards in the Nurian Empire until she abandoned her people to become a notorious pirate. That choice doomed the family she left behind to a life of disgrace. Yanko White Fox doesn't remember his mother, but as the only gifted child in the family, he is expected to erase the mark she left on them all.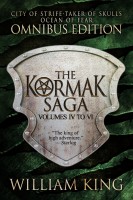 The Second Kormak Saga Omnibus
by

William King
From the rat-infested streets of nightmare-haunted Vermstadt to the ruins of the greatest of all Dwarvish nations and beyond, Kormak must battle demons and monsters and the worst evil of all, that which lies within the human heart. The Kormak Omnibus compiles three of Kormak's greatest adventures into one massive volume packed with action, adventure and magic.