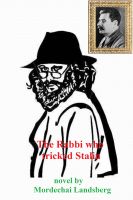 The Rabbi Who Tricked Stalin
by

Mordechai Landsberg
(5.00 from 1 review)
The reader of this book does not have to know much about the Jewish religion. The Rabbi symbolizes any possible simple citizen struggling against dictatorship. What brought A Rabbi to fake madness and hide that secret even from his wife, was a belief that God has given him that idea -:as the only way to convince the atheistic regime he is non-beneficial to communism - and deport him from Russia.
A Perfect Madness
by

Frank H. Marsh
(4.67 from 9 reviews)
It is the autumn of 1938 when Julia Kaufmann meets Erich Schmidt while studying medicine at the German University in Prague. With Hitler's army soon to invade the city and the terror of World War II looming, it is the worst of times for a Jew and a German to fall in love.
Related Categories