Sub-categories:
Psychological | Spiritual & metaphysical | Family sagas | Political | Crime | Medical | Religious | Technological | Legal | Media tie-in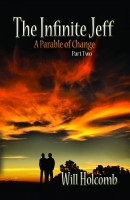 The Infinite Jeff (part 2): A Parable of Change
by

Will Holcomb
(4.80 from 5 reviews)
Please read part 1 before reading this part. Stanley, an out of work tech writer, gets a short-term contract job across the country. Of the three areas he feels give meaning to life: family, work, religion; he has left the only one of the three which has meaning to him, family, to go be 'just a tech writer' at 'just another company.' But ...