Sub-categories:
Psychological | Spiritual & metaphysical | Family sagas | Political | Crime | Medical | Technological | Religious | Legal | Media tie-in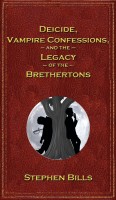 Deicide, Vampire Confessions, and the Legacy of the Brethertons
by

Stephen Bills
Right, so: most of your friends die fighting a war that turns out to be a stupid misunderstanding. Your wife runs off and joins your enemy. You kill an innocent man. And your brother murders you. Not a good week to be James Paddington. Most people would want to stay dead. After all, there's always consequences for making deals with the Gods...