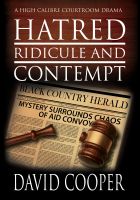 Hatred Ridicule & Contempt
by

David Cooper
Called upon to defend an acrimonious libel action on behalf of an important newspaper client, newly appointed law firm partner Alex Harris never once expected to find his efforts impeded by wanton disregard for ethics and blatant self interest that crossed all boundaries. Not only on the part of his opponents, but also those he should have been able to trust implicitly and without question…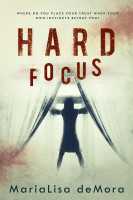 Hard Focus
by

MariaLisa deMora
This is an intense page-turner, a gut-punch twist-filled story about a woman who has confidence in herself, believes she's a good judge of character, and has filled her life with people she can trust. She's right, but she's also very, very wrong. You'll have a time of it trying to decide who to watch closest.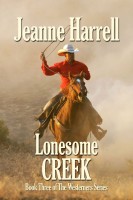 Lonesome Creek (The Westerners, Book 3)
by

Jeanne Harrell
Carrie inherits her uncle's ranch in rural California, but she's a city girl who decides country life is not for her. She puts the ranch up for sale but when her city life falls apart, a life at Lonesome Creek sounds better than it did before. Sparks fly with childhood friend and local rancher, Russ Roberts, but her insecurities and a town crisis push them both to the edge.