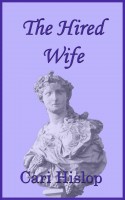 The Hired Wife
by

Cari Hislop
(3.75 from 4 reviews)
A Regency Romance. Marshall Godfrey the 8th Viscount Raynham needs a wife, but all efforts to acquire one through normal channels have failed. Time has run out. His twin sisters are being launched into society, but he can only hear sounds close by. He plans to hire a woman to hover at his shoulder and repeat into his ear what people are saying, but he can't take a secretary into polite society.
Undeniable
by

Madeline Sheehan
(4.25 from 8 reviews)
Warning: This is not a typical love story. This is an all-consuming, soul-crushing, tear-your-heart-into-pieces story. It's intense, gritty and raw, dark and disturbing, and it doesn't happen overnight. This is an epic love story that knows no boundaries and has no time limits. It grows and develops—with hurt, sacrifice, and heartache—over the span of a lifetime. This is Eva and Deuce's story.
Related Categories