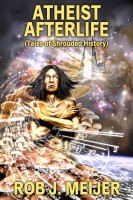 Atheist Afterlife
(2.00 from 1 review)
When hyper-intelligent mathematician David is forced to confront his own mortality, his coveted manuscript on the 'Proof of absence paradox' threatens to die with him. Desperate to salvage his life's work, he realizes that his exceptional mentee and protégé, Naila, could hold the key to the salvation of his manuscript and theorem—but their strained relationship may not allow for that.
At The End of The Rope - Is a New Beginning
A collection of short stories that will take you from the ecstatic heights of burning desire to the darkest depths of the heart. Philosophizes about desire, spirituality, life, death, past lives, soulmates, destiny and divinity. Prepare yourself for an emotional roller coaster!