My Dad Drove a Ford
This is a compilation of 10 stories based on interviews with the owners of classic Ford products from the 1950s,60s and 70s. The title is based on the words "My Drove a Ford". That's the most common answer to the question 'why' in every interview with classic Ford owners. This is a look at why nostalgia is the driving force behind the old car hobby.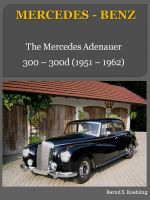 The Mercedes 300 Adenauer
This e-book covers the history of one of the most important cars, Daimler-Benz had launched in the 1950s: the W186 and W189 Mercedes 300 Adenauer. It deals with its rare coach-built versions and takes the reader back into the 1950s into the cars of the first German chancellor, Konrad Adenauer, who had owned six of them. The book comes with some 60 unique, non DB photos, most of them in color.