Sub-categories:
General | All sub-categories >>
Bottles | General | Kitchen glassware | << Top sub-categories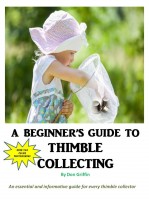 A Beginner's Guide to Thimble Collecting
by

Don Griffin
There are over 500 color photographs to help the novice collector correctly identify thimbles of various materials along with price guidelines for each. The eBay chapter is invaluable with many hints to assist a bidder to make a purchase at a fair price given the unscrupulous sellers on the site. The book is an excellent reference for all collectors.