Fleeing The Hijab, A Jewish Woman's Escape From Iran
by

Sima Goel
A true account of Sima Goel, the Iranian teenager who crossed the most dangerous desert in the world rather than accept the restrictions of life in Iran of the early1980s. Her quest for freedom is a thrilling, timely inspiration for people longing to create a life of meaning.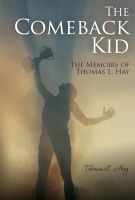 The Comeback Kid, The Memoirs of Thomas L. Hay
by

Thomas L. Hay
The life story of an ordinary mid-western small town red blooded American boy. At least he thought he was ordinary until he started to discover the many dark secrets in his life. Follow his journey from innocence to competence to life in the fast lane. From puppy love to international playboy. From UFOs to abductions. An adventure filled with mystery, romance, and intrigue.