Fleeing The Hijab, A Jewish Woman's Escape From Iran
A true account of Sima Goel, the Iranian teenager who crossed the most dangerous desert in the world rather than accept the restrictions of life in Iran of the early1980s. Her quest for freedom is a thrilling, timely inspiration for people longing to create a life of meaning.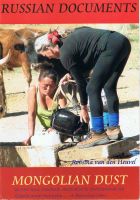 Russian Documents Mongolian Dust
An adventure travelogue. Driving overland from Australia to the Netherlands via Korea, Russia, Mongolia, Kazakhstan, across a stormy Black Sea to Bulgaria and onwards. I fell in love with Mongolia, land of blue sky and nomads. In freezing temperatures, there's nothing like camping in the wild to stretch you way out of your comfort zone. Jump into this story with me and you'll experience it.