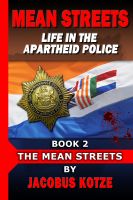 Mean Streets - Life in the Apartheid Police (Book 2 The Mean Streets)
The second book in the Mean Streets Series, it is a brutally honest and unconventional account of life in the South African Police Force (1985-1991) in the years before Mr Nelson Mandela was released from jail. This one recalls the Author's time on the mean streets of South Africa dealing with violent crime, political uprising and counter terrorism.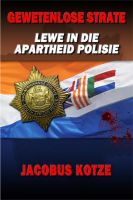 Gewetenlose Strate - Lewe in die Apartheid Polisie
Hierdie boek is nie jou gewone "troepie" boek nie maar 'n seldsame blik op die lewe in die Suid Afrikaanse Polisie Mag in die vyf jaar voor mnr Nelson Mandela vrygelaat is in Suid-Afrika. Die Suid Afrikaanse Polisie was toe een van die mees gevreesde polisie magte in die wêreld en met rede ook. Dit vertel die verhaal van 'n jong straat polisieman wat sy pad vind op die gewetenlose strate.