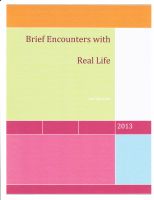 Brief Encounters with Real Life
Like most 0.9 billion citizens in developed countries I felt I was living the "Real Life". A variety of instances detailed herein proved that this was not so. As an environmental scientist at the University of Toronto and a consultant living and working worldwide it became evident that the "Real Life" belongs to our 6 billion co-inhabitants elsewhere. Here are brief amusing and emotive glimpses.
Memoirs Of a Manic
Despite being Bipolar and having a severe Learning Disability I earned a PhD in Environmental Chemistry and became a Full Professor at The University of Toronto. This book, Memoirs of a Manic, consists of 61 mainly humorous short stories related to events that occurred during my improbably successful career which includes publication of 6 research oriented Books by major Science Publishers.