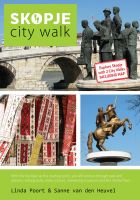 Skopje City Walk
Macedonia is an up-and-coming holiday destination in Europe. Explore its capital Skopje in your own time, without a guide. Learn about the sights you see, in your own pace. This ebook includes a map, which makes it possible for you to explore the city in a cheap and easy way.
Hittin' the Trail: Day Hiking Crex Meadows Wildlife Area
Imagine a place where you can walk among the remnants of an ancient ice age lake and past tens of thousands of rare and endangered birds gathered on their annual migration, all as you hear the howls of wolves and calls of loons in the distance. The place is real: It's the Crex Meadows Wildlife Area in northwest Wisconsin.