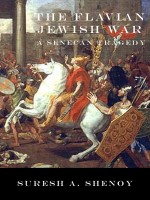 The Flavian Jewish War: A Senecan Tragedy
by

Suresh Shenoy
Price:
$5.00 USD.
Words: 66,690. Language: English. Published: June 18, 2015. Categories:
Nonfiction
»
History
»
Jewish
The very mention of Flavius Josephus raises the hackels of his Jewish compatriots, even after two millennia. He has been commonly known as the traitor to his nation who joined the Flavian Romans in destroying Judaea and the Herodian Temple at Jerusalem. My study shows that in fact Josephus was a loyal Jewish citizen and a secret enemy of the Flavian Romans.
Revealing Mistaken Identities
by

Anita Belle
Revealing Mistaken Identities presents the War on Drugs from the perspective of the black woman who was the attorney for 7 of the 8 cases that sued the CIA for its role in distributing imported illegal drugs into America's segregated black neighborhoods. This book reveals the CIA's motive for drugging black communities, that is, to cover up that certain African-Americans are biological Jews.