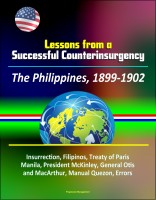 Lessons from a Successful Counterinsurgency: The Philippines, 1899-1902 - Insurrection, Filipinos, Treaty of Paris, Manila, President McKinley, General Otis and MacArthur, Manual Quezon, Errors
by

Progressive Management
The Philippine Insurrection of 1899-1902 was America's first major combat operation of the 20th century. The American policy of rewarding support and punishing opposition in the Philippines, called "attraction and chastisement," was an effective operational strategy. By eliminating insurgent resistance, the campaign successfully set the conditions necessary for achieving the desired end-state.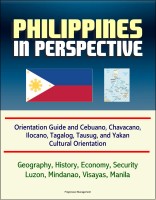 Philippines in Perspective - Orientation Guide and Cebuano, Chavacano, Ilocano, Tagalog, Tausug, and Yakan Cultural Orientation: Geography, History, Economy, Security, Luzon, Mindanao, Visayas, Manila
by

Progressive Management
Price:
$9.99 USD.
Words: 254,040. Language: English. Published: October 22, 2015. Categories:
Nonfiction
»
History
»
Oceania
This is a professionally-formatted, free flowing ebook reproduction of unique, up-to-date guides produced by the Department of Defense that provide comprehensive information about all aspects of life in the Philippines.
Related Categories