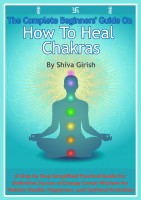 The Complete Beginners' Guide On How To Heal Chakras - A Step by Step Simplified Practical Guide for Definitive Source of Energy Center Wisdom for Holistic Health, Happiness, and Spiritual Evolution.
by

Shiva Girish
Series:
From the Beginner's To Advance Practitioner A Comprehensive Step By Step Practical Guide To Chakras Healing Tantra Meditation Techniques
·
Beginner's Guide - Learn How To Practice Simple Easy Yoga Meditation Techniques To Relieve Stress, Anxiety,Depression and Bring Inner Peace, Emotional Well-Being & Mental Clarity
, Book 3. Price:
$4.99 USD.
Words: 12,730. Language: Commonwealth English. Published: August 17, 2014. Categories:
Nonfiction
»
Health, wellbeing, & medicine
»
Yoga
,
Nonfiction
»
Health, wellbeing, & medicine
»
Healing
"The Complete Beginners' Guide On How To Heal Chakras" this book is written by Shiva girish chakra therapy meditation master. This book is a step by step practical beginner's guide – to learn and understand what chakra- seven bodies are. Why should you learn and understand chakra Healing therapy based on ancient Vedic science? How it give instant benefits for integrating body, mind, heart and soul
Related Categories